My mother's sister today celebrated 25 years of happily married life. Uncle had a bad attack of spondylitis around last week. Maybe God has plans and didn't want a big celebration. So, they had a small get-together for only close family.
Got an opportunity to give my Nokia N73 a test drive. Have taken a decent number of photographs, which I shall put up on my photo album.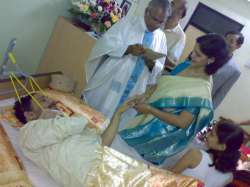 We began with mass at their place itself. Aunty convinced me to play the piano. It was four common hymns of which I knew three, so it wasn't a problem. It has been a while and I sure was rusty!
Mass was short and sweet and was followed by some num-nums. Alisha then gave a short speech followed by others and concluded with ones by Aunty and Uncle.
This was followed by the usual round of song. The evening was brought to a close with a good meal and even better icecream. I sure can eat 😉
(Visited 144 times, 1 visits today)