Had seen the poster of 300 more than a month back and decided that it would be a good movie to watch then.
It completely slipped my mind until my pals in the area suggested going for it.
Based on Frank Miller's comic, 300 tells the story of King Leonidas leading 300 Spartans against the mighty Persian army numbering well over 100,000 led by the tyrant Xerxes.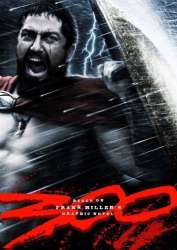 If you went expecting an epic, or if you went expecting a movie with a thrilling storyline then you would come away disappointed.
But, if you went expecting pure gore, tales of valour and sacrifice then 300 will not disappoint you at all.
The entire movie was shot in just 60 days, but the editting took over a year and it clearly shows. The graphics in the movie are spectacular and the slow motion scenes really take the cake.
This is one movie you have to watch on the full screen with surround sound.
Word of advice: Don't take your girlfriend for this one!
Rating: 7.5/10
(Visited 934 times, 1 visits today)