Yet another spectacular forward. This animated GIF, created by Neeraj Maurya takes a humourous look at calling up a wrong number.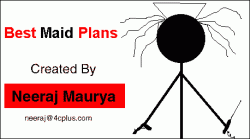 Click on the image to open the animation in a new window. Please note that the picture displays some violence.
Note: I have tried to get in touch with the creator via email, but haven't replaced a reply. If you are the creator, please get in touch with me.