It was about time… I have finally created a Facebook page for this blog. Up until now my profile has been one of the promotion media for the blog. Now, I hope to increase the number of persons following this blog via Facebook.
If you have been reading this blog, do hit the like button on the Facebook page.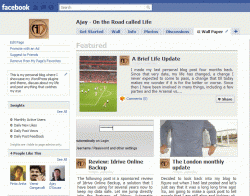 I still can't create a specific username for the page. I believe it is just a matter of time before I can do so. If you have become a fan of this page, do comment below and let me know.
I am using RSS Graffiti to add posts from this blog on Facebook. Extremely powerful and definitely an alternative to Facebook's Notes application (especially since it doesn't work too well)
(Visited 192 times, 1 visits today)