As part of the OSHE program I talked about a few posts back, we had to visit an industry in Pune itself to study the safety measures they have in place.
My batch visited Forbes Marshall in Pune.
The place in around 40 minutes from SCMHRD and the bus ride was noisy (leave a bunch of students in a bus and you will get this), but comfortable.
Forbes Marshall are experts in everything steam. We were allowed to tour their factory on our own and we roamed around gathering information about their processes and more importantly observing things out of place.

The place isn't too big and we were able to complete our tour rather quickly and so went off to the canteen and "observed the safety" out there. This involved tasting the medu vadas, biscuits and tea. We also checked the table tennis area to ensure that everything was in place.
We ended the session at Forbes Marshall with a brief presentation on their safety plans. We left the place and decided to next survey the safety and McDonald's and Naturals. This was a little bonus from the Industrial Visit.
If you're hunting for more photos check out the Forbes Marshall photo album.
August 2nd saw the arrival of the much awaited Freshers' Party, which ended up leaving much to be desired.
Had mentioned earlier that the juniors had to ask out the seniors as part of "the process". Clinton found me my date who turned out to be Raghav's girlfriend Gandhali.
Aditya, armed with his 7 megapixel Canon Powershot S3 IS, was our chief photographer and went crazy clicking out tonnes of snaps. I've filtered out the huge list with some "worthy" ones.
To sum up the Freshers', the food sucked and the music sucked even more. The only thing good about the event was the icecream.
We all went back to the hostel around 2am, which is one of the latest that we have been out so far.
I look forward to such events, though we need to find a better DJ and definitely some better food.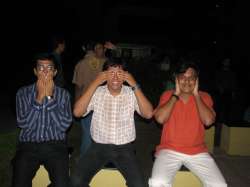 (Visited 1,175 times, 1 visits today)