My choir was asked to sing at Hotel Orchid, near the Santacruz airport.
Had earlier said I wouldn't be able to make it. However, it was later rescheduled for 7pm. Spent a good day at work today and ensured that I finished all my targets before I asked for permission.
Left at 5.30pm from work and picked up Madam A our my way there. Had given my coat and tie to her mom yesterday itself so that I didn't have to carry it to work.
The ambience of the hotel was really nice. However, we didn't get to see much of it as we had to sing in the lobby. Was kinda embarrassing at first, but after a few carols got kinda used to it.
Sang for around 45-50 minutes after which we were taken for snacks. Decent stuff.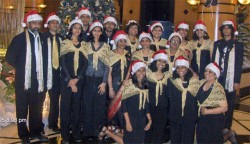 Wasn't able to carry my digicam as I came directly from work. However Clayton had carried his and so got a decent picture of our choir above.
After the event, Madam A came home with me on the bike. Dropped off my coat at my house (well couldn't carry it all by myself on the bike 😉 ) before dropping her home.
And instead of sleeping I stayed awake to write this post!
Have another long day tomorrow, both at work and afterwards. But, I am looking forward to it 🙂