Brought in the New Year yesterday with mass at 10pm. Decided to chuck my regular black jacket for an older but more formal blue blazer (unfortunately forgot to take a pic of me in it!)
Mass was normal. Our church is celebrating the year 2006 as "Year of the Youth and Children". Father gave a powerful sermon on how the youth today are so misguided. Will agree with him on many points, however I think he generalized a bit too much.
Left with Madam A immediately after communion in order to make it before 12am to Conrads place. We were the first there and it was already a little past 12!
Had made it a point to carry my digital camera and so grabbed the opportunity of being the first and immediately got to taking snaps of the decorations.
Here's a picture of their crib: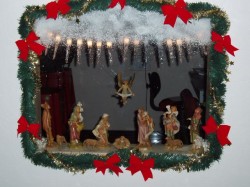 And this is the bar in their house (tempting, but I don't drink)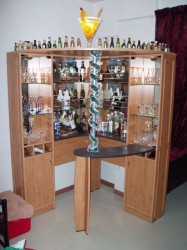 We had a good amount of jive before A. Anita served us our food. As usual we had a wide array to choose from and I made it a point to sample everything. The picture below definitely pales in comparison to real thing!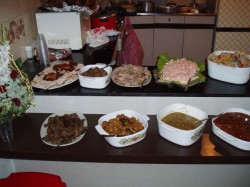 And also took a nice pic of my dear choir master and his wife.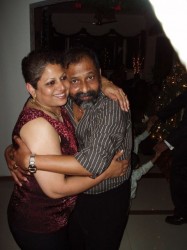 Danced the rest of the morning. Made sure I danced with every girl out there. Being one of the few guys who dances helps 😉
I have moved from the guy who never stepped onto the dance floor to one who is first on the floor. Got a nice pic of Madam A and me while we were still less zonked.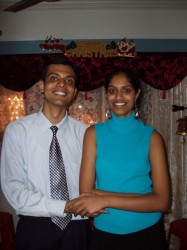 We left by 3.30am (I know early) because Madam A was leaving for Goa with the rest of her family. We did make a quick stopover at one of her pals places before I dropped her back home.
Had a great beginning this new year. Am hoping the rest of the year just gets better 🙂
(Visited 137 times, 1 visits today)