This review was originally posted by Madam A Lobo at the now defunct Humble Reviews.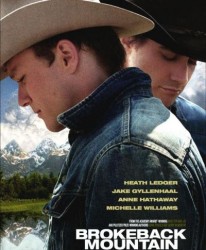 A raw, powerful story of two young men, a Wyoming ranch hand and a rodeo cowboy, who meet in the summer of 1963 sheepherding in the harsh, high grasslands of contemporary Wyoming and form an unorthodox yet life-long bond — by turns ecstatic, bitter and conflicted.
Set in the lush and scenic Alberta Rockies, Canada's largest Mountain range, Ang Lee's Academy Award nominated film, Brokeback Mountain, certainly deserves all the acclaim it is receiving. There have been countless movies that deal with "love", and I guess this is an age-old theme, one that transcends races, places, and languages and one that will never die out. This much talked about, much researched, and much speculated about topic is what the movie essentially deals with. It's a love story – plain and simple.
So, what's all the fuss about? Well, this is a story about love as friendship and longing… love that goes beyond physical intimacy, beyond distances, love that is timeless. The chemistry between Ennis Del Mar the Ranch hand, (played by Heath Andrew Ledger) and Jack Twist, the cowboy (Jake Gyllenhaal) is almost tangible. The movie exemplifies the saying 'Actions speak louder than words'… and in this case, a look does the trick.
You may find it a little slow in the beginning, but Ang Lee does a wonderful job when it comes to the unfolding of the characters and plot.
A movie with a theme that is universally appealing, beautifully shot, with convincing acting and with a lot of hidden social connotations, you're sure to like it if you give it a chance.
My Score: 7/10
(Visited 163 times, 1 visits today)