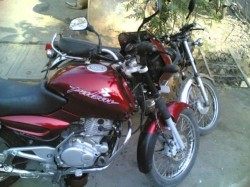 Well, I'm exhausted!
It's been a week and once again I haven't had the time to blog. Last Saturday, the 4th was a rather eventful day. Something that will remain in my memory for a long long time. And I won't mention why 😉
In the evening had the "Fiesta Night" in church. The legendary band Crimson Rage were called to play. The only reason I went was because I heard that they mainly play ballroom music. They didn't give me reason to complain.
The music was simply fabulous. Unfortunately only till 10.30. Food was horrid, but then you can't expect much for 150 bucks, can you?
Took a walk with Madam A (who was my date for the dance) after the dance before saying good night.