Christmas and Internet has been kind of responsible for no posts for quite a while on this blog. Christmas is over, but the internet continues to remain bad.
So I'm gonna make a post while I have the chance to do so.
I ended the week before Christmas with a wedding mass that we were singing for. As usual, we trooped out to eat after the mass. We chose Domino's because of its proximity. My opinion that Domino's is not an eatin was re-enforced.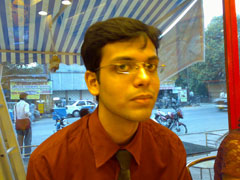 The service was pathetic, they took a great deal of time to serve us (their thirty minute guarantee should apply to those eating in as well!)
I didn't go for the Christmas midnight mass, as I prefer the morning masses. Did the second reading as well.
We made last minute plans to go for the Christmas Dance at Bandra Gym. Stopped at Pot Pourii in Bandra for some dinner. I guess that either I don't know what to eat at the place or the food just sucks there!
We reached the gym before 9pm and danced a good deal until 11.30pm with a small break in the middle.
With a little food in our bellies we resumed dancing until they moved the music inside and started playing stuff I hate dancing on. By 3.30am we were totally bored and decided to just leave instead of waiting for the slow music to start. Slept a good portion of 26th which is expected when you don't sleep most of the night 😉
Had choir practice on 26th evening to practice for yet another wedding mass on the 28th at Dominic Savio. Couples really need to prepare for their masses!
Today was an unfruitful day in college. However I did get my HDFC account closed, printouts of the transcripts and gave my bike for servicing, which means that I am without wheels for a day.
The weekend ahead is going to be with the books, with two mocks and classes as well.
(Visited 207 times, 1 visits today)