Having spent a good portion of the week in Boscastle and the surrounding areas, Ashwina and I set out to visit the famous Camel Trail.
Straight from Wikipedia:
The Camel Trail is a disused and resurfaced railway line in Cornwall, England, United Kingdom, that provides a recreational route for walkers, cyclists and horse riders.
We had initially planned to cycle down the trail from Padstow to Wadebridge. However, the 595 Western Greyhound from Boscastle terminates at Wadebridge. So, instead of travelling the extra distance, we decided to get off at Wadebridge.
The actual distance from Boscastle to Wadebridge can be covered in about 30 minutes by road. However the bus takes you on a "tour" of the region passing through Camelford and so the journey becomes well over an hour.
We got off at the last stop which is at Wadebridge's town centre. Since it was lunch time, we walked around the area and found a nice restaurant called Glasshouse.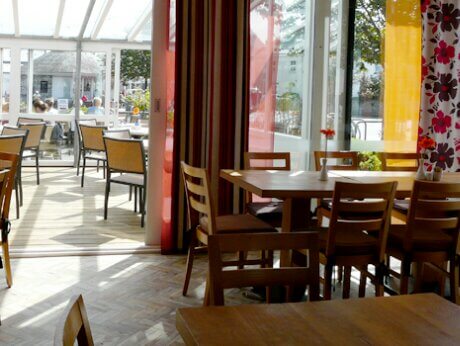 The restaurant primarily serves Italian food and nothing says Italian food like pizza topped with pepperoni and jalapeños. Ashwina prefers pasta…
While we planned the next course of action over lunch, the skies opened up and the UK weather department once again proved that they can decently predict the weather.
Rains meant that the cycle option was out because neither of us planned to ride the chilly rain. The next option was to check out at least part of the trail on foot. We planned to take the 3.26pm bus back to Boscastle, which left us about 30 minutes to walk down the trail.
When we finally got to the trail, it turned out to be a let down. The photos below might tell you why. We turned back to the town centre and found the bus stop that would take us back to Boscastle.
Since we had a bit of time we found a nice small cafe called Carraways where we sipped on some hot chocolate and downed some Bailey's cheesecake.
The return journey seemed to be much longer. We had walked a lot less than the previous few days. But we were so tired that we crashed and spent the rest of the evening at home. The rain continued, which does adds a unique charm.
Tomorrow would be Bude. The weather department predicts rains, but after today, we should be able to handle this.