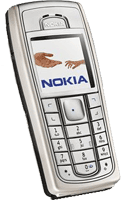 The Nokia 6230 has an inbuilt music player for MP3 and AAC files.
The player by default recognizes music in the Music Files folder of your phone, however if you store your music in a folder of your MMC card, you will need to create a playlist in order to play your music. Below is a step-by-step guide on how to create and use your playlist.
Firstly, check the firmware of your cellphone. You can do so by entering *#0000#. If you are using the original v3.15 of the firmware you will need to use the Nokia PC Suite 6.2 and below versions. My recommendation is to use the PC Suite that came on the CD with the cellphone. I have Nokia PC Suite v5.8
Start up Nokia Audio Manager (NAM). I am assuming your cellphone is connected via your datacable / bluetooth and has been detected by Nokia Connection Manager.
In the upper pane of NAM, click Add and add all the songs you want to play on your phone
Skip this step if you already have a folder in your MMC Card. In the bottom left pane, right click on your MMC and create a new folder. Let us call it CD1. Select this folder.
In the top pane, select all the files. You can do so by clicking on one and then pressing CTRL+A. Click on Transfer Selected to transfer the files to CD1.
Once, all the files are done transfering, you will see them in the CD1 folder in the bottom pane. In the top pane delete all the files.
From the menu select Edit -> Create new playlist. Give it some name. Let's call it PL1.
Now transfer this blank playlist to your phone, by clicking on Transfer Selected.
In the bottom left pane, goto the Playlist folder. You will see PL1.m3u listed in the bottom right pane.
Right-click on it and select Add. You will get a new window listing all the music files. Select the files you need to add to your playlist.
Disconnect your cable and on your phone goto the Music Player. You can open the tracklist Menu -> Media -> Music player -> Options -> Track list -> Options -> Change track list. Select PL1.m3u and you are ready to listen to your music
Note that you can also transfer files to the MMC using a MMC reader, so you don't need to use NAM for this.
There are also reports that the phone has a problem listing more than 200 files in a folder or playlist.
Solution: Spread your files in different folders so that you have less than 200 files per folder.
If you get the Invalid track list error, make sure you are using the original software which came with your cell. I experienced the same problem when using Nokia PC Suite 6.41, but it worked with v5.8.
Alternatively, you will need to upgrade the firmware.