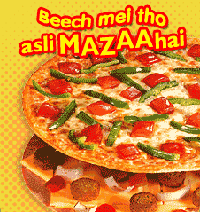 Mom decided to try out Dominos' new Cheese Burger Pizza today. Well, what do I say, its different.
A brand new concept in pizzas. It consists of one thin crust with a layer of cheese slices. Above this is a layer of burger patties, tomato and onion.
Next comes the second thin crust followed with a topping of mozzarella cheese and one topping of your choice.
You can choose from Tomato, Spicy Paneer, Classic Veggie, Corny Chicken and Spicy Chicken.
The pizza was quite good, though I find almost any pizza good!.
But, as usual I've always found Dominos prices a bit steep. Don't want to be negative but for the price I think they should me a bit more tastier.
Still prefer Pizza Hut, which is without doubt my favorite pizza joint, but this was a welcome change!