My company sent me for a two day training on Effective Business Communication. The training was held at our Powai campus, which is close to home so I was more than happy to attend the same on Thursday and Friday.
50% of what we learn is lost in the first 24 hours and 90% over the next six months. The best thing to avoid this is to tell someone about it. Thanks to blogs, today we can tell more than just one about the same. Well, it's more than 24 hours, so I am going to do my best to note what I learnt.
The workshop was conducted by Anita Shantaram from Dr. P.N. Singh Center for HRD.

Day 1
We began the day with introductions. Not in the usual manner but with a twist. The quorum was for 20 persons, however only 10 turned up.
We were broken into four groups and asked to introduce the other member of the group.
Introduction
Stretch is what we were told and that's something we all managed. We were asked to find out and then give details of the other person. These details included their full name, tenure in LnT, family, what they liked and disliked about the organization, their main strength and weekness, role model and why and their dream date. (wow, I actually remember the order! :O )
The catch: Not using a pen and a paper to note down!
Learning: When our mind is set to something, we can do it!
Perception
Next we were broken into two teams of five each. We were given three seconds per person and asked to draw a group picture, each getting two turns and without lifting the pen.
It's interesting to see what a picture is drawn by a group of persons.
Round 1: Describe your picture, pointing out several good points about them. This was rather easy and we listed way too many point !
Round 2: Criticize the other team's picture. Easy again.
Round 3: Say something good about the other team's picture, without repeating what they said. This was difficult for two reasons. One, it required a quick change of our mindset and two, you had to find something new to say about them.
Learning: Perception is very important in communication. Though easier said than done, it is better to approach a conversation with absolutely no preconceptions. Everything has it's positives and negatives. How we look at things is what matters most.
This is something I need to work on.
Picture Description
I volunteered for something I didn't expect. I was asked to describe the drawing below and the remaining had to draw it.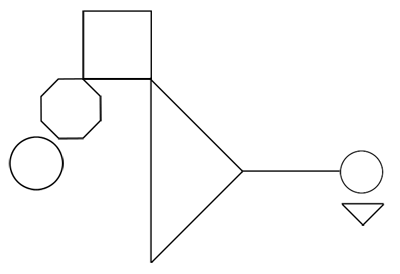 The catch: They couldn't ask questions and I couldn't make gestures
Learning: Know your audience. Of the persons there, two were non-technical and both got the drawing wrong. Points I should have mentioned right in the beginning is how they should have placed the paper. Descriptions should have been so that even the lay person could understand, e.g. comparing the circles with coins.
We spent the rest of the day solving a lot of exercises in the material we were given.
Day 2
Correspondence
We have been writing letters right from our school days and with the advent of the Internet, emails have become the popular form of communication. But, do we actually write good effective emails?
We can say Communication has been effective when it's purpose has been met.
We were asked to give her some sample emails of ours and the session was spent disecting them to see how it could be better.
This was one of the most important sessions of the program, as correspondence is something that is essential in all businesses.
Learnt a great deal as well.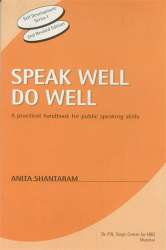 Making Presentations
Making presentations is something we may not do everyday, but have to do in once in a while. I'm made a lot of these during my college days for the many paper presentations we made.
We were all asked to give a presentation and were given feedback on the same. I surprise myself and being able to give a presentation that wasn't complete and that I had never done before!
Got to improve 🙂
Miscellaneous
We also had a casestudy of two scenes on the first day, one concerned analysis of a letter, while another (which my team did) was analysis of a conversation.
The second day also included a small skit by both teams regarding emotions and control.
Plenty of excercises on both days did keep us working.
Anita gave us her book at the end of this day. I still haven't gone through. Plan on doing so soon and will give you all feedback on the same.
Overall, the programme was very good. Am really glad that our company understands the necessity of having programs like these. I hope I can attend more of these in the future.
(Visited 1,744 times, 1 visits today)