I'm no expert when it comes to cooking, but I do try my hand at it once in a while.
I wasn't keeping to well the day before, but a good cold compress and a few crocins did prevent a fever, though I was a bit woozy whole of yesterday.
Spent the whole evening helping my brother with his project and decided to just have eggs from dinner, until I got a brainwave to try my hand at egg bhurjee. For those interested (read brave enough to try) the recipe is below: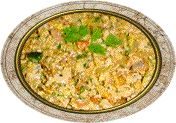 Ingredients:
2 eggs
1 tomato
1 onion
1 cube cheese
1 boiled egg (optional)
Salt, Pepper, Ketchup to taste
Ghee or Oil to fry

Method:
Beat the egg in a dish and add the salt and pepper to taste.
Dice the tomato, the onion, the cheese and the boild seperately.
Put a pan on the fire and add one teaspoon or less of ghee or oil. If your pan is not non-stick, then you may need a bit more ghee.
Add the diced tomato and onion in the pan and fry it till the onion is golden brown
Now add the beaten eggs and toss in the pan until it is fried.
Add the diced cheese and boiled eggs to the mixture and top this up with the ketchup. Mix well
Serve hot with bread
This turned out to be tastier than I expected because I had my bro licking his fingers at the end of it and mom faced turned really appreciative.
What about you? Will you be giving this a shot? Let me know how it turns out.