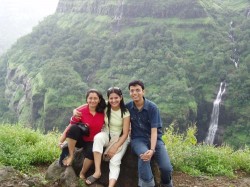 Headed off to Khandala with Melody, Elvis and Delilah last weekend (17-18 September).
Had planned this quite a while back and I was really hoping that work would not make me cancel. Thankfully, it did not.
We had booked a car and driver who would be with us during the two days which was a very smart thing to do. Having your own set of wheels is very much a necessity. We headed to Khandala early Saturday morning and reached there before 8am.We were staying in Khandala in a nice "dalmation" house.
I'm not going to go into a detailed account of the visit there because once again Melody has done an excellent job of it.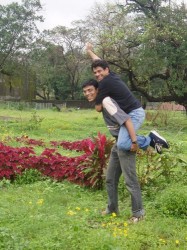 But I must say we did manage to squeeze in a lot in just two days with visits to St. Mary's, Karla Caves, Lonavala, NAB, Fariyas Holiday Resort and Rajmachi Udhyan!
The ride home was rather eventful as well because the tire of our car got punctured due to the disgusting roads near Panvel (not to mention whole of Mumbai and Navi Mumbai). To make matters worse we didn't have the spanner. Thankfully for us, a family on their way back from Lonavala stopped and lent us their tools to change the tire.
Overall had a fantastic time. It was a much needed break away from work and I am really glad I didn't miss it.
Had just one complain about the visit there and that was regarding the way the locals simply fleece visitors to Khandala and with no one to put a stop to it! And unfortunately, there is no way to put a stop to it except if the government steps in and we shall not go down that track…
(Visited 265 times, 1 visits today)