Had a Mock FMS exam this morning. From what I have been told, the FMS paper is extremely simple, but you have to literally fight for time!
This was the case today and I am not happy with the performance 🙁
Lots of solving is still needed to build up speed.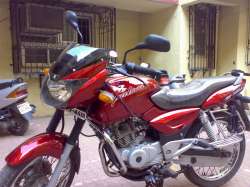 I had given my bike for servicing yesterday and she came back looking all shining and almost brand new. Had the battery changed as well since it was giving problems. Things look smooth so far. I'm happy.
Had a wedding mass in the evening. U. Conrad had to rush so he asked me to play the final tracks. The couple's photographer decided to exhaust all his roles in the church itself, or so it seemed by the marathon photo session!
After this our ancient boring priest decided to come and grumble at us for playing the music. So we grumbled back and told him it is his job to ensure that the couples finish on time. Then again he wouldn't understand that considering his long boring sermons! Thank God I don't go for midnight mass X(
Have a Mock CET tomorrow morning. Plan on working on this blog's look a bit. Lets see what I can churn up 🙂