Imagine my shock, surprise and excitement to find out that my review of Slumdog Millionaire was featured in Mumbai Mirror's Bloggers' Park.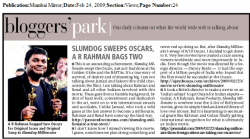 Mumbai Mirror is a newspaper focused for Mumbai that comes along with The Times of India.
Though I must say that I didn't see much traffic coming out here because of the article, I am pleased that my review was considered newspaper worthy 🙂
Thank you Mumbai Mirror! And, thanks to @rahuljrark of Cool Tricks N Tips for pointing this out to me.