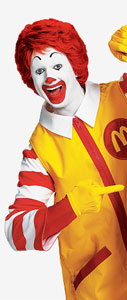 We set out yesterday yet again to buy the XAT Forms. This is my third trip and this time we decided to not bother going to the Dadar SBI, because we found the one at Mahim.
Got stuck in horrible traffic on the way there. And if the traffic wasn't bad enough, the heat was killing. Could actually feel my skin getting burnt by the sun 🙁
We were able to reach the bank only a little before noon. And thank God for ACs!
Spent more than one and a half hour there filling up and collecting eight forms! They should give us a discount for bulk purchases 😉
Next stop was the Bank of Baroda in Vile Parle to pick up forms for MDI. Things were much faster here.
By the end of this we ended up spending more than Rs.10000! :O
Money well used?
We were already famished and so dropped in at the McDonald's closeby.
By the time we got back home, it was already past 4pm. Not to mention we were also totally exhausted.
Atleast the first step in the process has been completed. Now begins the next, filling and sending!