Our friend from Moira, Juze Bostiaum, appeared on Kaun Banega Crorepati, the famous 'Amitabh Bachchan' hosted show. Juze had miraculously reached the end of the rounds by saying all his Rosaries & Novenas & had already won Rs. 50 lacs.
"You've done very well so far," said Amitabh, "but for Rs. 1 crore, you've only got one lifeline left – Phone a Friend. Everything's riding on this question… will you go for it ?"
"Sure," said Juze. "Aum ek last chance, marta!"
"OK ….. The QUESTION is ….. Which of the following birds does NOT build its own nest ? a) Robin,(b) Sparrow,(c) Cuckoo, or(d) Crow"?
"Heje maayinchem caazar … I not knowing dat," said Juze, "so better use my last life line, and phone to my friend, Pedru Pochok (actual name: Pedro Pacheco) from Mumbai. He's East Indian, but a Bandra boy, & born & brought up in Mumbai, so he's too smart-a real shaana buggar."
Juze called up his friend in Mumbai, told him the circumstances and repeated the question to him.
"Arree Baba Anton !" cried Pedru, "Sarko Endo Mure Tu, Simple it is .. it's a cuckoo."
"Ah-vois, sure mure Pedru ?" asked Juze.
"Arre Baba, hundred percent sure re ! Pakka !"
Juze hung up the phone and told Amitabh Bachan, "I tell Cookoo."
"Is that your final answer ?" asked Amitabh.
"Sarkem sure, Sir !"
There was a long, long pause, then Amitabh Bachan screamed, "Cuckoo is the correct answer ! Juze, you've won Rs..1 Crore ! !"
The next night, Juze threw a big party for all the people from Moira, at the Moira Club. Pedru was specially flown in from Mumbai, as the Chief Guest.
Time for speeches …
Juze takes the mike and asks Pedru, "Saang mure, Pedru ? Foo told you ? How you know cuckoo isn't building its own nest ?
Says Pedru, "You're sarko bondo re, Juze. Everybody knows a cuckoo lives in a clock! "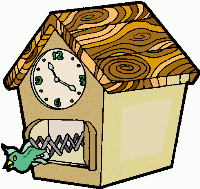 Clipart from Clipartheaven.com