This review was originally posted by Josemund at the now defunct Humble Reviews.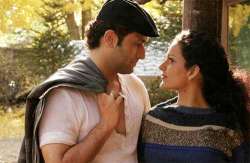 2004 – A film called Murder…Superhit!
2006 – The usual suspects… The Bhatt camp, Director Anurag Basu, Serial kisser Emraan Hashmi and superhit music
Verdict – Did not disappoint. Infact I quite enjoyed it!
The movie includes a newcomer Kangana Ranaut and a relatively new guy Shiney Ahuja. As the name suggests it is a story of a Gangster, Daya Shankar (Shiney) and Simran (Kangana). Destiny gets them face to face and they fall in love. An adopted kid who is the apple of their eye and any place they can call home since a gangster cannot stay put in one place. Some close encounters with the cops, some with the underworld thugs, but they find their way out….out of India.

When Simran finds herself alone and needs a shoulder to cry on, she finds solace in Aakash (Emraan).
Emraan Hashmi is a singer in a local bar. Shot mainly in Seoul, there are some scenes shot in Dubai as well. Visually very appealing. The scene on top of Aakash's terrace is simply super. What a view!
Unexpected twists, gripping drama and scintillating music. Bheegi Bheegi and Tu hi meri shab hai…are chart busters already. The "Ya Ali" track will make you groove.
What a waste of a film if it includes Emraan and doesn't have a kissing scene? A beautiful ballad playing in the background while a sensuous Kangana captivates you with her svelte body and frizzy hair.
Of all the characters, Shiney (even with very few dialogues) is endearing. He speaks with his eyes and is definitely a hero to watch out for.Shiney needs to improve on his emotional scenes though. But he will make it big one day in Bollywood…a la John Abraham. He has the screen presence of a Star. His breakdown scene towards the end is worth mentioning.
Kangana has a seductive appeal. I think it's her frizzy hair. She needs to improve her dubbing. She does a very Meena Kumari rendition from Sahib, Biwi or Ghulam. She sails through the movie with a bottle of alcohol. A lot of delicate nuances to her character which she manages to tackle. Way to go girl! Just the kind of debut to get you noticed.
And finally Emraan Hashmi. Since he is Bhatt camp favourite, he gets a well etched role with a layered character. A crowd favourite, I must say. The cat calls and whistles didn't stop once his romance unfolded onscreen. I personally preferred Shiney for getting into the skin of his character and nailing it to the T.
A good movie with all the required masala for a Bollywood flick. Don't miss it.
My rating: 7/10
(Visited 288 times, 1 visits today)