As all good things come to an end, our exhausting but extremely enjoyable vacation in Goa finally drew to a close. We had tickets for the afternoon Shatabdi Express back to Mumbai.
But, the return journey didn't mean we didn't have an exhausting morning.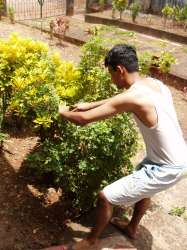 It began with us gardening, more like pruning the the plants out there in preparation for the monsoon, when they grow uncontrolled. This also meant my debut in this field 😉
Before that, Crispin headed off to Badem to meet his grandmother. He returned with a huge box of mangoes… a huge, extremely heavy box that we had to lug back to Mumbai.
After lunch, we set off for Thivim station. However, looking at the size of our luggage we realized it would be extremely difficult to transport it without proper transport. Now Goa doesn't have proper transport, unless you own it! We were lucky to find a rickshaw who agreed to take us and the luggage. So two of us went in the rick with all the bags, while the others walked it out via a shorter route.
We were joined by Valley who came to the station after work.
We located where our coaches would come. The train was late by almost 30 minutes. The train ride was comfortable, except when the train went into the tunnels and we had the compartments all filled with smoke!
We reached Mumbai a little before midnight where Crispin's dad picked us up.
Changed, deposited the bibic in the fridge and went to bed. Unpacking will have to wait.