It has been a long long long time since I last blogged. Had spoken about Blog Burnout and this almost happened to my blog. Anyway, I'm here blogging about the last two weeks (almost).
The first three days of last week were mainly lots of work and lots of choir practice in preparation for Easter Vigil Mass. Couldn't make it for the prayer meeting on Tuesday as a result of this.
Maundy Thursday
Was working on Maundy Thursday, but was allowed to leave by 4.00pm. Got back home and since I had a little time on my hands, decided to give my bike her much needed washing.
Used the cleaning liquid I had picked up from The Hub a long time back. The bike was clean after some quick scrubbing. Finally applied the polish and was very very surprised to see it shining. Flame looked so good that I fell in love with her all over again.
The Maundy Thursday mass was long with a good sermon. However, the singing wasn't really great, don't know if it was the singers or the instruments, but the sound was harsh 🙁
Good Friday
Our office gave Christians an option to take the day off today, and so I had the day off.
Dropped my Mom off to Holy Family Hospital in the morning as she was staying in the Hospital with my Uncle.
Took my doctor cousin out for breakfast. Can't believe my soon to be rich cousin made me pay :O (It's cool but this has to be on record)
Watched Meet the Fockers at Suburbia while munching on some McDonald's burgers.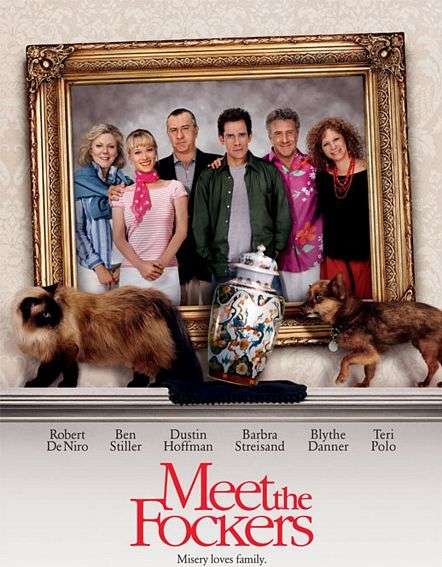 Having given permission to male nurse Greg Focker to marry his daughter, ex-CIA man Jack Byrnes and his wife travel to Miami to Greg's parents, who this time around are Mr. and Mrs. Focker, who are as different from them as can be. As asked in the first movie, what sort of people name their son Gaylord M. Focker?
Had watched Meet the Parents long back and thought the movie really good. Bearing in mind that sequels don't usually live up to the expectations, I went for the movie.
However, the movie was funny. It did have quite a few serious parts but well at the end of it, I got a fair share of laughter, so no complains 🙂
Dropped her home after the movie and got back home myself to get ready for the Good Friday service. Felt this mass too long as well. I guess when I am not singing I think masses are very long. But, the homily, though good, was rather long.
The singing of the choir was much better than that on Maundy Thursday, so no complains here.
Went home and went off to sleep.
Holy Saturday
Today was Holi as well, which means get dirty with colour. Well, not me at least. I decided to spend the day at home and just watched some movies and worked on my sites a bit.
James came over to pick up my suit in the evening which meant that I had to wear my new (now old) black jacket which Melody had gifted me for Christmas.
Decided to go with a slightly different look as she had grumbled that I had worn a tie last time. So this time, I dropped the idea of the tie and just went for the grey shirt + jacket combination. Was looking very nice if I should say so myself :))
Mass was good. Sang well and sang a lot, but like U. Conrad, I too wasn't very impressed by our singing. Though we did get a lot of compliments, the practice hadn't happened too much because of the irregularity of members due to various reasons, not just exams. Well, I wasn't very regular myself, so I can't grumble about others. But, I learnt all my parts in the end and was confident of it.
After mass went out with Austin and his girlfriend, James, Melita and Chriselle to Zodiac, a joint near our place. Stuffed ourselves with chicken tikka, chicken makhani and lots of rotis and didn't pay a bomb 🙂
Had to get back home and bed immediately as we singing for 9.30am mass in the morning, much to the delight of the priests in our parish 🙂
Easter Sunday
Most of the choir didn't turn up for the mass (without prior informing) and so A. Anita and U. Conrad were rather bugged. Can't blame them, because it gets very irritating we had prepared hymns which need strength.
But, by the grace of God, our singing was much better than last nights and well, we got compliments as usual for this 😀
Spent the rest of Easter Sunday at home working on WebberZone. Progress is slow, but I plan on getting this up and working by April end max.

Plus One
For lack of things to call it, Plus One is for the week that just went by. Had a good time this week.
Work has been really fun though very tiring since I spent a good time on the shop floor.
Had choir practice on Monday evening.
Tuesday evening was the prayer meeting. At the end of it, the youth of the Prayer Group were called together. We will be having the Easter Fellowship. I say we because I have comfortably settled into the Prayer Group.
Have been put in the Games Committee and will also be MCing the show 😀
It is supposed to be held this Tuesday.
Wednesday was yet another trip to Bandra for a meeting regarding the above. Progress is good.
Thursday finally found me going home, much to the delight of my mom 😉
We also got news today that since my SBU has reached its financial target and since we have been so religiously attending work on Saturdays, we get to take either the 1st or the 4th off :). Since I have a meeting on the 4th, I took 1st off.
We decided to watch Be Cool.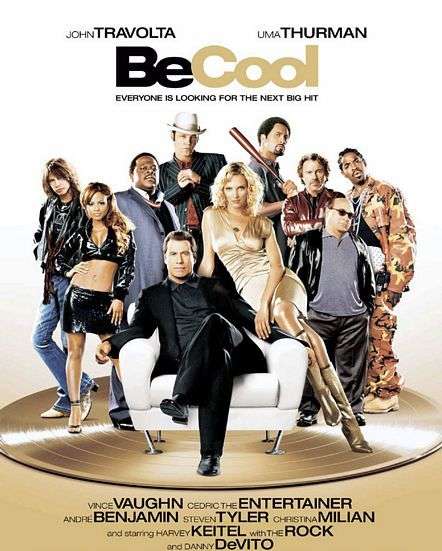 In this sequel to "Get Shorty", Chili Palmer (John Travolta) is tired of the movie production business after being forced to make a useless sequel starring Martin Weir (Danny De Vito). When a music producer friend (James Woods) is gunned down, he offers to help his widow (Uma Thurman) run the business. Checking a talent (Christina Milian) that Woods had been talking to him about puts Chili at odds with a sleazy music manager (Vince Vaughn),his gay bodyguard (The Rock), and his equally sleazy partner (Harvey Keitel). Woods mismanagement of the music company also gets Chili threatened by members of the Russian mafia and a suburbian rap-mogul producer (Cedric The Entertainer) & his thugs led by his bumbling relative (Andre Benjamin). All turns out well when it is determined that Uma had at one time been the laundress for Aerosmith and making contact with Aerosmith leader Steven Tyler at a Lakers game, gets their protege a duet with Tyler at an Aerosmith concert. Robert Pastorelli also appears as a slobbish hitman, who bumbles an attack on Chili. Contains profanity (including the one gratuitous use of the f-word, which Chili cites in using it as the only use permissible without getting an R rating in movies), lots of gunplay and other violence, and mild sexual situations.
Have seen way too many promos of it and keeping in mind the star cast, I was expecting it to be a hit.
Was rather disappointed. Seemed rather patchy, though it did have its funny moments.
Went to my Grandma's place at Linking Road after this, as I had to go to Mt. Carmel's in the evening for the meeting.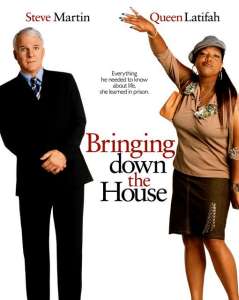 Bringing down the House was running on Star Movies and it turned out to be a very enjoyable movie.
A lawyer (Steve Martin), who is too wrapped up in his work for his family and thus is estranged from his wife, takes up with a woman on a computer chat line that he thinks is a blonde attorney. Instead she turns out to be an escaped con (Queen Latifah), who claims to be innocent. Through a chain of threats, she coerces the lawyer into helping prove her innocence. In doing so, she also helps him rediscover his own life. While racial overtones play a considerable part of the film's humor, Martin and Latifah's warmth and humor still win out and offer some laugh out loud comedy. Eugene Levy appears as Martin's lawyer friend who becomes infatuated with Latifah. Joan Plowright is an uptight heiress with a bulldog named William Shakespeare, who is being pursued as a client by Martin's law office.
Presented the games we were planning for the get-together and decided to meet up with Andrew Nathan and Gail on Saturday evening before Bible Class.
Spent a lot of time chatting with Bernadette and Sean after the meeting about various stuff before dropping Bernadette home.
Saturday
Woke up at 9.30am and went to Catholic Syrian Bank in the morning. They have closed Sunday banking and that has been rather inconvenient for us now.
Went to the Sai Service showroom and bought me a new helmet and helmet lock. Helmets for both rider and pillion rider have been made compulsory in Mumbai as of 1st April 2005 and now I will need to carry two helmets :O
I went to my Grandma's place yet again to kill some time, pay her a visit and pick up my house keys which I forgot yesterday.
Had to meet Andrew at 5.30pm in Mt. Carmel's. Wrote up what I plan to say and showed it to him.
Bible class was good. We finished Job 1 and I am finally understanding stuff. After class, Mervin explained to us about the three great events of the Old Testament, viz. Exodus, David and Exile in detail.
It feels really good to finally know what exactly is written in the Bible.
Slept rather late as my bro was watching some Hindi movie on television and so consequently woke up very late today. Made it a point to complete this blog entry have been writing for more than an hour.
It's done, done, done and my blog is finally up-to-date 😀
Got to go for mass in the evening and then go to Mt. Carmel's for the meeting again. Things will be finalized today 🙂