This review was originally posted by Madam A Lobo at the now defunct Humble Reviews.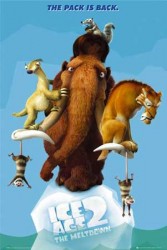 Diego, Manny and Sid return in this sequel to the hit Ice Age. This time around the Ice Age is over and is starting to melt, which will destroy their valley. So they must unite and warn everyone about the situation
What do you get when you cross a know-it-all blabbermouth sloth, a ferocious sabretooth tiger (who turns into a "scardy cat" when faced with water), a "typically male" Mammoth who finds it difficult to express himself and two "cool dude" possums with a mammoth suffering from an identity crisis for a sister?
Ice Age 2!

Animated movies with their witty dialogue, adorable quirky characters, and fairytale-like appeal never fail to disappoint… And Ice Age 2: The Meltdown is no different!
From Sid, the sloth (John Leguizamo) threatening to take his life by jumping off the "eviscerator" water slide to Manny the Mammoth (Ray Romano) and his qualms about being the last surviving mammoth, to Diego, the Sabertooth tiger (Dennis Leary), the pack is back and all set for the migration. They make some new friends along the way, each with their own distinct personality.
Scrat, the muskrat and the tragic comedy woven around his constant quest for his "lost nut" add some slapstick humour, and you might find this a little too fantastic…but it adds to the overall charm of the movie.
One little inconsistency that cropped up was with respect to Ellie's (Queen Latifah) size [And here I am referring only to the animated character! 😉 ]. The first time you catch a glimpse of her in the movie, she appears to be a little more than an infant. However, as the movie progresses, she seems to visibly grow!! Well, I guess this "sizable" change was essential if the chemistry been Manny and Ellie was to be built up (pun unintended).
Most people believe that the sequel of a movie can never be as good as the original. Well, The Meltdown proves the belief wrong and is a hilarious movie that anyone is sure to enjoy.
My rating: 7.5/10
(Visited 272 times, 1 visits today)