The events in this post took place nearly four months ago. It's been over four weeks of quarantine and I think most of the days have merged into each other. Work has not stopped being busy but saving a bit of travel time in the morning and evening allowed me to write up this post gradually over several days!
Unlike other years, Ashwina and I decided to spend 2019 Christmas and New Year in India. We were also celebrating my dad's mother's 90th birthday, albeit a few months after she turned 90! We also had Dad and Arun coming down from Toronto along with Ferdy and his family.
After long and busy 2019, we were definitely looking forward to spending some quiet time with family and friends which I'm pleased that we were able to. A few highlights from our trip which spanned Pune and Mumbai.
Pune
Although we landed in Mumbai, we decided to head off directly to Pune. We usually fly from Mumbai to Pune but the bankruptcy of Jet Airways earlier in the year required us to find another mode of transport a.k.a. Uber. We set out very early in the morning on 22 December for Pune which helped us avoid the rush and made the journey in a little over three hours.
The first few days involved resting, some calls and relaxation. We also caught up with Rhea and Wency with their cute daughter for dinner on 23rd. We picked Panchratna, which is where we met them several years back. Although the service was excellent, the food could have been cooked a bit better.
Ashwina, her folks and I went for morning mass at her church on Christmas day. After returning home, Ashwina cooked a delicious biryani, which is her signature dish. The next day, Ashwina's folks went off to Mangalore while we stayed behind and attended the Christmas Mega Dance at Pune Cathedral. I can't say we did a lot of dancing as the music didn't fit our style.
We whiled away the next few days at home including the New Year. Except for visiting Ashwina's friend Malaika and her family to say hi to her super cute twins. Have I mentioned that babies love me?
I've never been a big fan of going out on 31st December for multiple reasons and have always preferred to be home with family which is pretty much what we did. I did write up my annual summary.
We visited Akshat and Neha on 1st particularly to get introduced to their super cute baby girl. And then met up with Saby at Paasha.
On 2nd January, we celebrated Ashwina's mother's birthday including lunch at Barbeque Nation. I prefer the one in Bangalore as the food here and the ambience wasn't very great.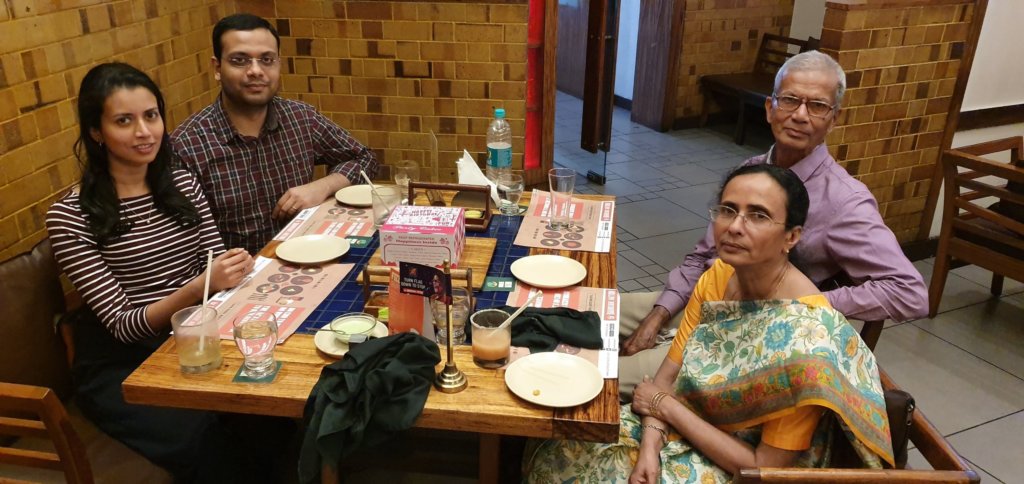 And, on the second last day, I met up with Aditya and Akshat – our first meeting since 2012 at my wedding. We're all older, fatter and I'm not sure any wiser. It was a good, fun-filled evening with some food, a lot of alcohol and even more chattering into the early morning.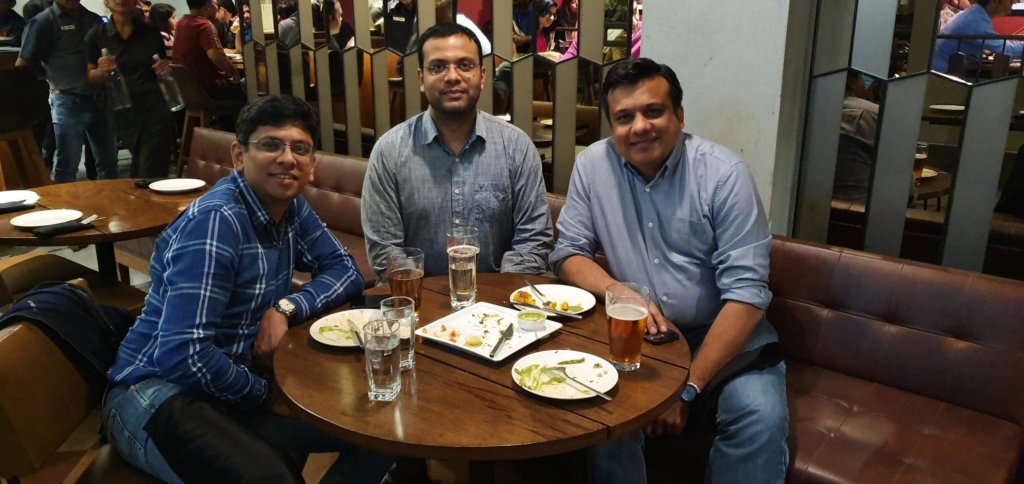 Mumbai
After spending two weeks in Pune, we took an Uber back to Mumbai on late Saturday evening. This journey was a lot longer on account of the horrible traffic we got in Mumbai. Because the whole family was down, Ashwina and I had booked ourselves into the ITC Maratha. We had done the same thing a few years back and loved the entire stay. This time we had more time to plan and Ashwina secured us an even better deal than last time!
On Sunday, we celebrated Nana's 90th birthday which was an excellent time to catch up with almost all my cousins from my Dad's side including taking them out for a walk on the dangerous streets of Mumbai while we gathered at the nearest Starbucks.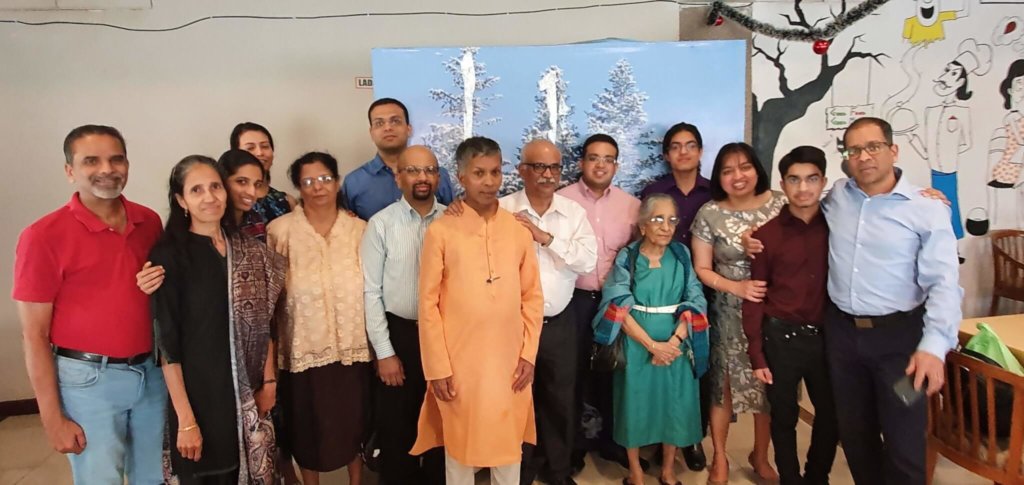 A lot of time in the following week was spent with bank work (typical). I met up with Cloreisha at Powai for coffee and we also hosted Ferdy and his family for dinner at the ITC.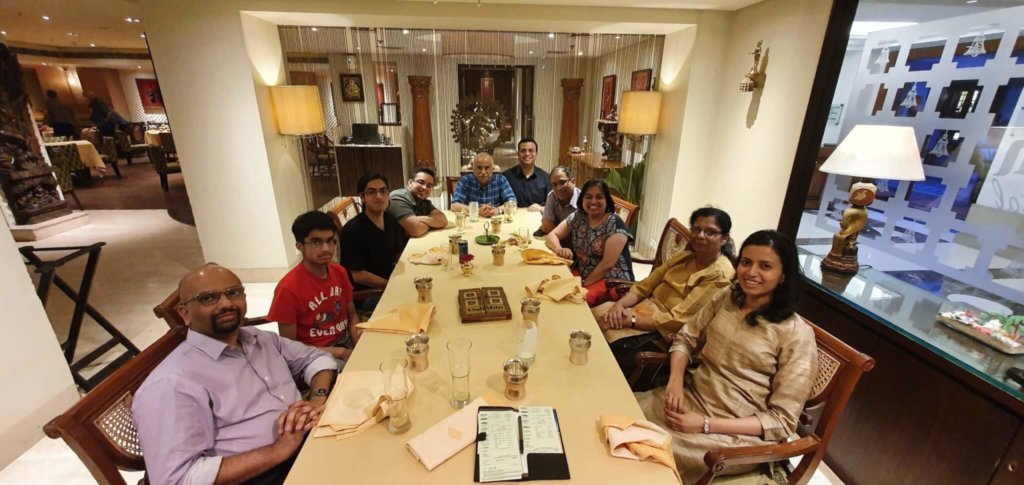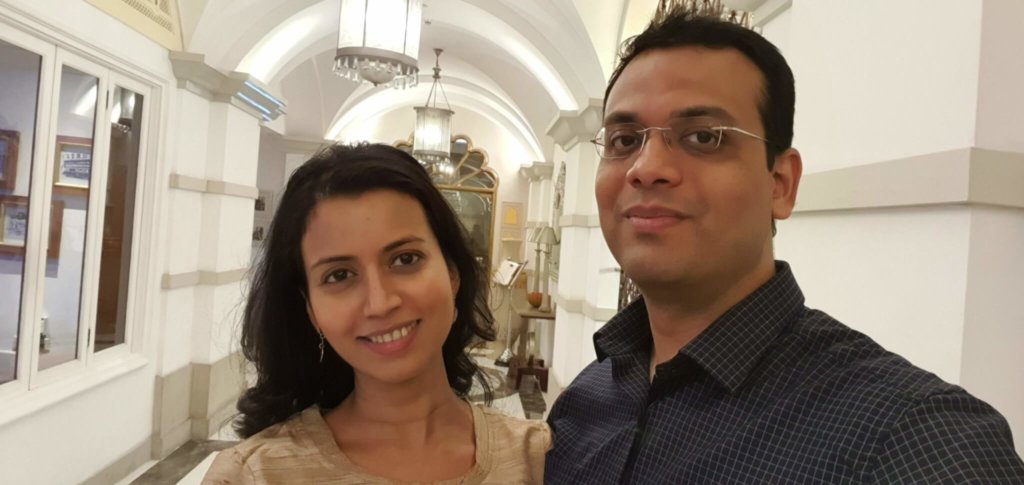 We closed out our holiday by dropping in my maternal grandmom's place. I lived there when I was a toddler and will always have a special place in my heart. We also met Alisha and Rodney there. We also met Malaika and Donald along with their two darling twins.
In summary, we ended up spending a good three weeks with both our families, caught up friends after a long time and also had a good amount of time to rest and relax. The last few months have been pretty busy except for two days of sightseeing – but that's in another post. Not sure when our next holiday will be!
(Visited 413 times, 1 visits today)