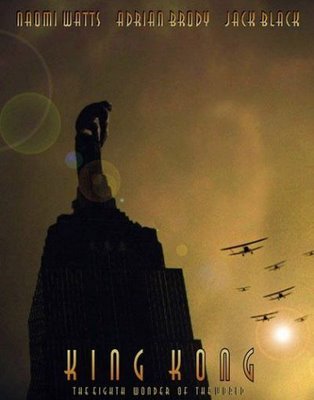 Set in the 1930s, this is the story of a young and beautiful actress Ann Darrow from the world of vaudeville who finds herself lost in depression-era New York and her luck changes when she meets an over-ambitious filmmaker Carl Denham who brings her on an exploratory expedition to a remote island where she finds compassion and the true meaning of humanity with an ape Kong. The beauty and the beast finally meet their fate back in the city of New York where the filmmaker takes and displays the ape in quest of his fame by commercial exploitation which ultimately leads to catastrophe for everyone including a playwright Jack Driscoll who falls in love with Ann and plays an unlikely hero by trying to save her from Kong and her destiny.
Caught the first day last show of this movie. Just three words. GO WATCH IT!
Based on the original King Kong movie but with a change of scenario. The best actor in the movie is King Kong without doubts. He is well backed up by Naomi Watts, Adrian Brody and Jack Black who play Ann Darrow,Carl Denham and Jack Driscoll respectively.
The movie had all emotions rolled into one. While some scenes, like the one where she performs in front of King Kong, keep you in splits, others like when he is chloroformed and also where he is shot bring tears to your eyes.
There are moments of frustration seeing how really stupid and self centric Carl can be and we also have the little romantic moments between Jack and Ann.
The special effects were fabulous and the sound effects were even better.
Overall, I was very impressed by the movie. Just had a few facts out of place, like when he falls off the Empire State Building and the road below doesn't even have a dent!And as far as I remember you can't find three T-rexes in the same area.
Am giving this movie a 8/10.