I returned to college in mid March for the last two weeks at SCMHRD; two weeks filled with exams and vivas. Began first shot of the exams with the viva for our Finance Paper on 21st March. It was short, to the point and sweet with average marks. We also collected out hall tickets on that day.
Two days prior to that Sneha got placed. It was also the same day that Namrata manage to break a leg (and I'm not talking show business) while shopping. She sure got fussed over for two weeks.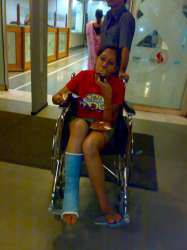 My first written paper was for World Class Management on 26th of March and the paper turned out to be a real bouncer for the entire batch. We still await results, which are due in June / July.
On 26th we all set out for Sneha?s treat at Sigri in Dhole Patil Road, Pune. I had been to Sigri last year for one of the many admissions treats and liked the place. This time we went with the Barbeque buffet and it was simply fabulous. I stuffed myself up with fish, prawns and chicken and washed it all down with three triple scoops of strawberry ice cream.
And, the next day, I went out with the Admissions Team, viz. Anoop, Maria, Radhika and Ravi. Rashmi also joined for dinner. We went over to Rajwada, which I had visited once. The service at that place is painfully slow, but the food is decently edible.
We intended to stop off for ice cream and stuff but rushed to catch the last bus back to college.
The remaining days at SCMHRD were two more papers and a viva, lots of clearance forms and final packing as I headed back home to Mumbai.
The last week in Mumbai was actually just a few days as I got my belongings ready for transportation to Bangalore.
The transporters picked up all my stuff on Saturday and I dropped my bike over on Sunday before I flew down to Bangalore. The driver who received me at the airport was a very chatty guy and pointed out quite a few places as we passed them during the 90 minute drive to the guesthouse.
Today was the first day at work and was an excellent day. I like the place here. This week, I plan on searching for a good 1BHK in Bangalore.
BTW, in all likelihood, this may possibly be my second last post to be filed under College. The last possibly be the results, if I have the time!
(Visited 592 times, 1 visits today)