We are leaving work today at 3.00pm
What I wonder now is what time will I actually reach home.
I'm sure my internet at home is not working, so I may post feedback tomorrow…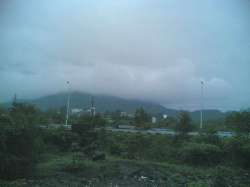 Not only was the internet down, but also the electricity in the area was turned off.
We left and I was able to get a nice picture of the skyline outside our campus as you can see on the right. (Hint: Can be used as wallpaper)
The journey home was quick because there was absolutely no traffic on the roads. BEST buses had stopped plying and most people were at home.
Had to walk home through flowing water from Seepz.
Having no electricity at home can make it extremely boring! We did get electicity back by 6pm. An uneventful and boring evening.
I did get down to loading music onto my sexy iPOD 30gb 🙂 I now have something to do when the electricity next gos.
The situation today is equally bad. It has been pouring right since morning and I am sure the situation today is going to be just as bad, if not worse.
Also there is no news of us leaving today, so I take it we will be off at normal time. A long journey home?