The place where I catch my bus every morning near J.B. Nagar has two manholes.
A few months back one of the manholes broke a bit and within the next two days it had crumbled completely. Instead of it being repaired I found stones around the manhole. It did get repaired finally.
I missed photographs then, but this time the story repeats. Found both manholes have developed small holes and this time took the needed pictures.
Here is the first (the one which broke last time):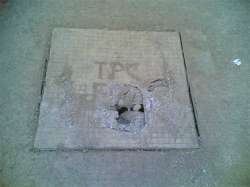 Click the thumb to view the full pic.
And this is the second:

If you look closely at the picture, there is one glaring stupid mistake. Rather easy to spot, so can you tell me what it is?
(Visited 114 times, 1 visits today)