This is the follow up post from Manholes – Day 03. As I said, I wasn't able to take pictures of days 04 to 07. However, the BMC hasn't disappointed me.
When I arrived at my stop today, both the manholes in a worse state since that day.
Here's Manhole 01 on the eight day: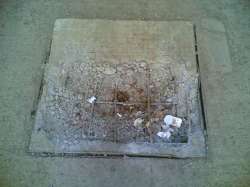 And Manhole 03 on it's sixth day: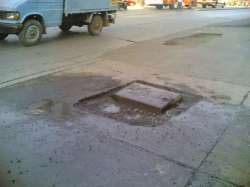 As you can see this has broken down still further. One of the two covers has gone missing and there is water all around the manhole.
What's worse about this manhole is that it is exactly at a right turn, which makes it difficult for vehicles to maneuver around it.
I don't see both these manholes getting repaired in the near future, so I now have one post per day 😉
(Visited 116 times, 1 visits today)