Movie tickets: 310 rupees
Travel cost: 60 rupees
Renting 3D goggles: 200 rupees
162 minutes of pure fun: priceless
We've been waiting for Avatar ever since I saw its trailer a little over a month back. So, when it released, I decided to watch the movie and booked my tickets well in advance!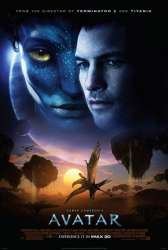 When Corporal Jake Sully's brother is killed in war, Jake takes his place on Pandora. For Jake, who is crippled, this is a chance for a new life. On Pandora, Jake's mind is linked with a human-Na'vi hybrid. As the hybrid, Jake is free to wander the new planet.
As far as the story goes, Jake gets lost, is rescued by Netyiri, gets introduced to the Na'vi people and finally joins the People.
The movie has been produced in 3D, which required us to watch it using 3D goggles. I say required, because without the goggles the entire movie is totally blurred.
The special effects are fantastic, though the story line is somewhat predictable. the trees, the plants, the birds and animals are well done with good detail. The effect of the 3D definitely has its advantages, especially, when you see a gas canister about to hit you or one of the creatures howling into your face.
So, if you haven't yet watched the movie, go ahead and watch it in 3D. If you have, then tell me what you liked / hated about the movie.
My rating: 8/10