Ever since I watched the first movie, I have been an even bigger fan of Mr. Depp, especially his portrayal of Capt. Jack Sparrow. And, so I have made it a point to watch each movie in the series and have loved each of them.
In the latest movie, Capt. Jack Sparrow (Johnny Depp) runs into his ex-flame Angelica (Penélope Cruz) and together they set out to find the fountain of youth, partly for them and partly because Blackbeard (Ian McShane) wants to find the fountain to extend his life. But, they are not the only ones hunting for the fountain. The Spanish and Barbossa (Geoffrey Rush) are also in the race to find the fountain.
Thus begins the race of several ships across the high seas, with maps and mermaids and ships in bottles.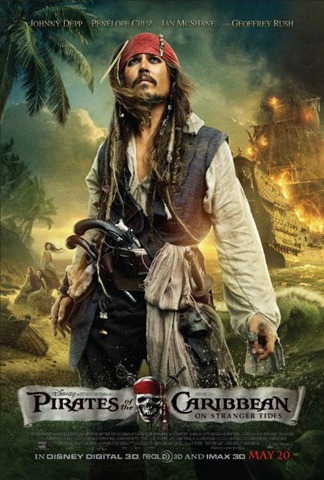 Depp once again does justice to the movie with his amazing acting, which is also the reason this series has gone from being one movie to many, with promises for more. While Sparrow and his wisecracks are the main selling features for the movie, credit must be given to the writers who have done a fascinating job with the script, without which those lines would not have happened.
Penelope Cruz plays her part pretty well, looking gorgeous as usual. Geoffrey is at his usual self and Ian is the new element in the picture who appears very late in the movie, but plays his role well.
The special effects are as good as the past and the 3D does make it better. Definitely a must watch, especially if you've watched the past three movies.
Trailer:
Rating: 8/10