I set out in sub-zero temperature to watch the third movie in the Narnia series. Having watched the first two (read review of Prince Caspian), my movie hungry soul had to watch this one.
Lucy and Edmund return to Narnia with their cousin Eustace where they meet up with Prince Caspian on the Dawn Treader. While Lucy and Edmund initially wonder why they have been summoned to Narnia yet again, we have Eustace yelling his heart out for being kidnapped. It isn't long before they realise that they are on yet another adventure, across the high seas.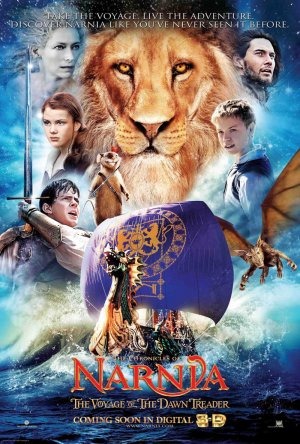 Picture source: MoviePosterDB.com
Presented in 3D, the Voyage of the Dawn Treader is the scarier of the three movies. However, as with most series (e.g. Harry Potter), the movie was also the slowest of the three. At times I hoped that time would pass by further or if I could just forward a few scenes.
Overall, this movie is a must watch if you have already watched the first two. Else, you may want to skip this series.
Rating: 6/10
(Visited 387 times, 1 visits today)