When Thor (played by Chris Hemsworth), the god of thunder and lightening, decides to disobey his father Odin (Anthony Hopkins), he is banished from the realm of Azgard to earth without his strength and powers. His hammer follows after him and becomes a point of great mystery for the people of Earth.
On earth, Thor meets and falls in love with the gorgeous Jane Foster (played by Natalie Portman). But, life isn't all rosy as he would hope to be, especially when you have an evil brother called Loki (Tom Hiddleston), who has made up his mind to kill Thor, take over the Azgard throne and destroy earth. And, so continues the fight of good vs. evil.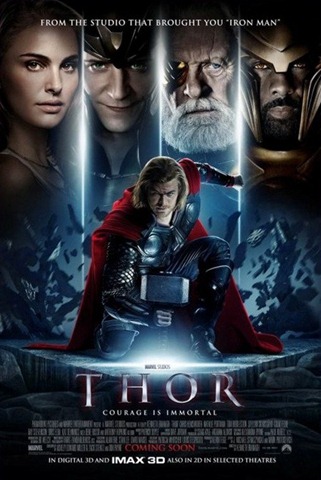 Thor is a movie that is extremely well done as a story line and with the graphics as well. However, if you have no clue who he is, it appears to be a story of a guy with a big hammer.
The acting is done well. You have a few funny dialogs in the movie, mainly thrown in by Chris that livens up the screenplay. Natalie does more than just look pretty by playing the role of the smart scientist. And, Mr. Hopkins is at his usual stern best.
It's definitely a good one time watch. So, if you're going to be fascinated by the story of the god of lightening and thunder, you should go ahead and watch the movie.
Trailer:
Rating: 7/10