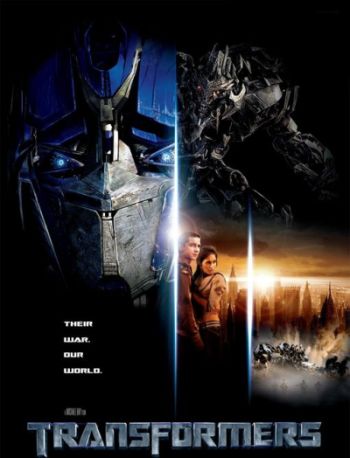 Imax Adlabs offers special Rs.49 prices for movie tickets in some shows before 6pm.
So, went off to watch Transformers in the Imax Dome.
Excellent experience, but the fast paced movie was kinda overwhelming.
Transformers tells the story of Sam Witwicky (Shia LaBeouf), a young teenager who convinces his father to buy him a car, a car that would change his life.
The car turns out to be Bumblebee, an Autobot sent to protect him from the Decepticons. Both, the Autobots and the Decepticons are after the Allspark, a cube, with the power to create life. While the Autobots had managed to smuggle the Allspark off their planet, Megatron, the head of the Decepticons followed the Allspark to earth, but crashed before he could retrieve the same. Megatron was later found by Captain Archibald Witwicky, the grandfather of young Sam.
The story continues in perfect predictable style with Sam joining the Autobots in their fight against Megatron and the other Decepticons.
Overall the movie is done really well. Sam plays a really good role and talking robots … who wouldn't love them 🙂
Worth watching once. Nice cars and vehicles to watch. Its fun. However, I do suggest a flat screen!
My rating: 7/10
(Visited 370 times, 1 visits today)