After watching Tron Legacy, a movie of pure fantasy, watching a "Inspired by true events" movie was the exact opposite.
Unstoppable is about a runaway train and is based on the CSX 8888 incident, obviously spiced up for dramatic effect. In the movie, veteran Barnes (Denzil Washington) and Colson (Chris Pine) check into a regular day at work operating the 1206. As they start to understand each other, they are take on the challenge of stopping the AWVR owned runaway 777 after attempts to stop it fail.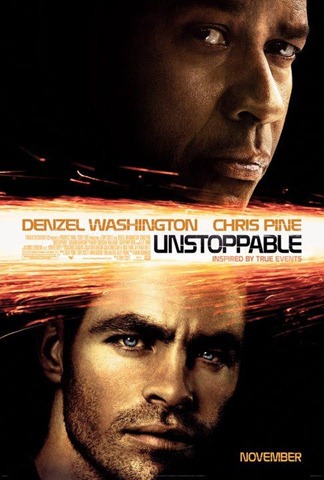 While Unstoppable has been "overly dramatised" than the original incident, the movie does justice to a great extent. It attempts to follow the sequence of events, including the final attempt by Colson and Barnes to stop the train. The movie is fast paced and there are several scenes that make you lean forward in your seat as you take them in.
Washington and Pine do justice to their roles. Then again, Denzil Washington has been excellent in every movie he has acted in. Some of the quotes are nice. One that I loved is by Pine as he says "One day everything is perfect and the next day it is falling apart faster than you can put it together" (or something like that). Makes me think of my life at times.
Go watch it.
Rating: 7/10
(Visited 438 times, 1 visits today)