Did a real lot this weekend!
Had choir practice as usual on Friday which was pretty normal. Woke up nice and late on Saturday morning 😀
Headed over to Melody's place for work.
She had prepared some awesome Goa Sausages (and she didn't blog about it).
Plans with Madam C didn't materialize in the end and I headed home around 7 pm. Spent the rest of the evening working for a new site. Will post details about it when it is done.
But, plans with Anjali materialized. We had decided to go out for dinner followed by The Exorcism of Emily Rose, which was running at Fame Adlabs.
However, mom announced that we had pomfret curry for dinner. Just couldn't resist, so we decided to skip eating out and instead just go for the movie!
Set off around 9.30pm, picked up the tickets and then spent some time at Barista in Lokhandwala. It sure has been quite a while since I have been to Barista.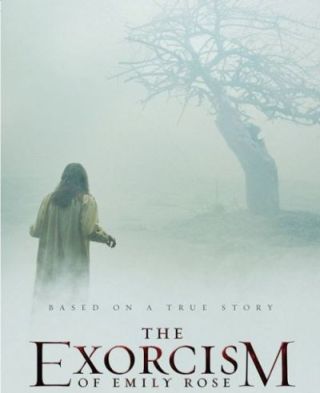 The movie turned out to be quite interesting. Scary and not gross. Read my review.
The movie got over only past 1.30am and we had a rather freezing ride back home. Reached here and decided to chitchat till 3 am (you need to watch the movie for this).
Did so and then said good night 🙂
Woke up nice and late on Sunday. Didn't even realize that it was 10.30am! 🙂
Headed over to Fun Republic, where After the Sunset was running.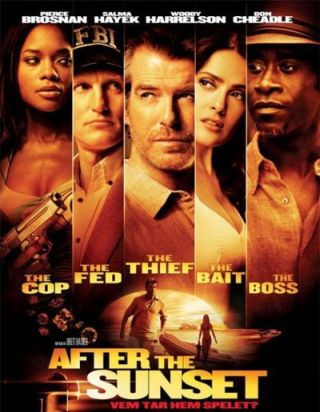 Turned out to be a rather moderate movie.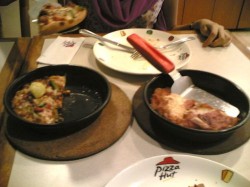 We had lunch in Fun Republic itself. But, as my friend was hungry and so we went to the Bandra Pizza Hut. Wasn't feeling too hungry but the pizzas were really really tempting! The pic on the side justifies my decision, doesn't it?
Dropped her home after this and rushed off to church for the 6pm mass. Reached well in time and did the First Reading.
Mass was rather nice. Had a good time. Chose to spend the rest of the evening at home designing the site. It seems a bit tougher than I expected. However, what has to be done, has to be done.
This has turned out to be one big post. Well, I really need to post more often!