Logged in yesterday to my Windows Live Mail account and was completely blown away.
Firstly, the interface loaded in a jiffy, which was a really good experience from my past experiences with Windows Live Mail.
Next, it had a whole new look. You now have several user selectable themes and colors available at the click of a button.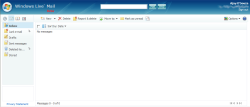 For those unaware, Windows Live Mail is the new revamped interface of the old Hotmail. It has an Ajax interface with complete drag and drop support for emails. It also intergrates Live Contacts, Calendar and MSN Spaces.
Messages can be read either by themselves or in a Reading Pane.
You also can choose a light version of the interface, though I don't think it needed with this update.
Hotmail is my oldest email account, registered way back in 1998 and I will confess that I haven't used the email features of the account much, as I have always preferred Yahoo! Mail.
However, MSN has been a primary chat client, besides Yahoo! and GTalk.
I actually started using Windows Live recently after the beta version of the Mail interface released. And this was a little frustrating because the design had a lot to be desired.
I may however, start using Live Mail more often given this update.
(Visited 609 times, 1 visits today)