Ended up sleeping around 2am this morning as I was busy working on of my websites.
Mom woke me up around 3.30pm right in time for class.
Had two classes today, the first being on Numbers. And once again I realized I have a lot of work to put in even to master quant. Am learning a good deal and thankfully have the time to practice now.
The second lecture was Reading Comprehension. It was actually a test of 50 questions. Fared pretty decently IMHO, though there is still a lot of room for improvement.
At the end, the lecturer decided to tell us about Reverse Reading (though I prefer the term Inverse Reading) to improve our reading speed and comprehension.
It basically involves reading a book / newspaper upside-down. The purpose it hopes to achieve is to improve the ability to understand words from their shapes.
I will start practicing reading the newspaper for five to ten minutes daily. I don't have anything to lose and if it really helps me read and comprehend passages, so much the better.
BTW, try reading the passage below. It is just one of my past blog entries. Click on the image to open it in a new window. Start from the bottom right.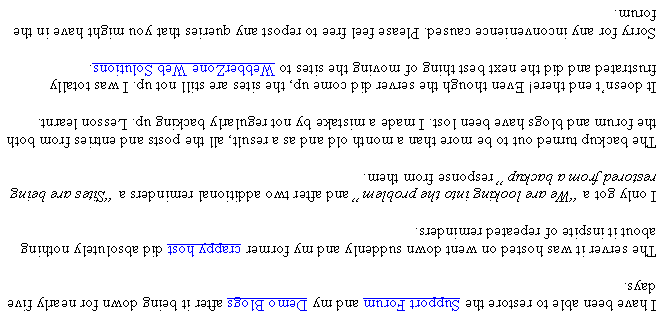 (Visited 184 times, 1 visits today)