Due to continuous downtime from Friday, I have finally been able to get online to update this blog.
This post will bring you up-to-date on the events of Saturday 7th February 2004.
Along with Nikhil and Saurabh , I went off to attend Eureka, the software presentation, at SNDT's festival Torque 2004, organized by the Computer Society of India. This was on an all Mumbai level and we present our Steganography Software called IndiSteg (more of IndiSteg shall soon be on my website).
We reached there to find a lot of people with lots of excellent programs and were a bit worried that ours would pale in comparison to them. Anyways, being like we are, we decided to give it our best shot. The judge came and we impressed him a lot, and even asked him to sign over report with his comments (He wrote EXCELLENT!).
We were asked to wait for the prize distribution to find out if we won or not. It was a long wait, but we decided to do it anyways. We were glad we waited, because we won the Second Place:O:O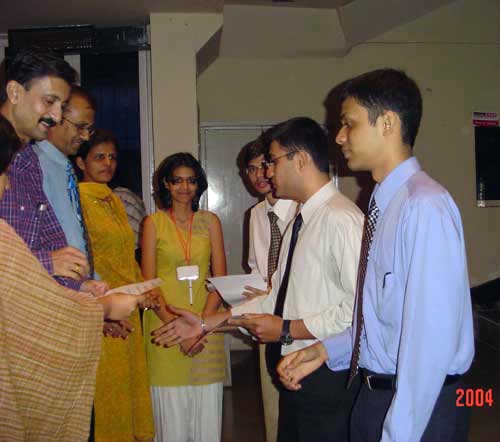 I am the one in the blue. Nikhil is in between Saurabh & me, and Saurabh is last, standing next to pretty girl in yellow (who I know nothing about) 😉
With that Steganography maintained its cent-percent record of wins. We have participated in 3 events, reached finals of all three and won something at all three!
So in all, Saturday was an eventful day, with a good addition to our certificate collection as well as our wallets :))