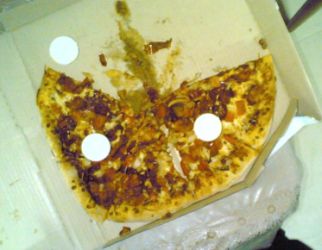 Dominos' came out with an offer last week to celebrate 10 years, viz. a buy one get one free. Took the opportunity to pick up two large pizzas, which lasted a good two days between hungry me, light eating Mom and big eater brother!
Spent a good amount of Friday at work submitting all the stuff required for Form C. Taxes….!
Made up my mind to not go to work on the weekend. Went out with Madam C after a long long time.
Unable to find a good movie running, we were heading back to Bandra, when I remembered of a place I used to frequent in college for pizzas.
So turned my bike towards Alfredo's in Juhu which has remained same as always. Ordered a 12inch Coronation Chicken by mistake without realizing it is meant for four.
It was really yummy, but I had to get it packed.
Spent some time at Bandstand before I dropped her home.
Monday to today have been really exhausting days at work. A little frustration and a few successes. Today was a good day. My code has been coming on really well.
That's it folks. I guess yet another weekly update. Have the next two days at of the week working.