About a week back I created a new feed that collates five of my feeds. This was done with the help of FeedBlendr. It is a good service, but there is a lot of room for improvement. The feed work but it seemed to give a problem with Feedburner.
I decided to give Yahoo! Pipes a shot as I originally intended to. The interface is easy to use but it doesn't look at all welcoming. I haven't let a single interface to this date benumb and I don't intend to let Yahoo! Pipes be the first!
Got down to understanding how Yahoo! Pipes actually works and I was shocked to realize that it was actually really really easy to mix my feeds together!
All you need is a single Fetch module into which you feed in the locations of all your feeds. The output of this module is then sent to your Output module. You save and publish your pipe and you're done!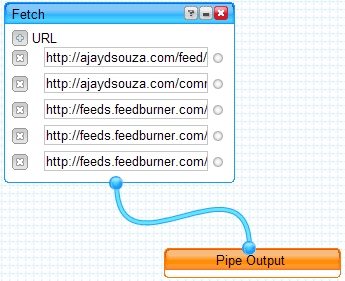 I next got the RSS for the pipe and modified the Feedburner feed to point to this new RSS feed.
The result is a faster and possibly more reliable interface. Easy customization in case I wish to add or remove feeds. I'm sure I can do a lot more like limiting the number of articles and so on, but will take a bit more trial.
Have you tried out Yahoo! Pipes so far?
(Visited 445 times, 1 visits today)