I haven't been very active in the Indian Blogosphere and so missed the entire discussion over Kiruba being the No. 1 blogger in India (according to Blogstreet).
Patrix has expressed his opinion on Popularity in the Indian Blogosphere. He goes on to list several Indian blogs (including mine) according to their Technorati Ranking.
His post did get me thinking.
Popularity can be defined as the quality of being widely admired or accepted or sought after.
But, how does this translate in the WWW? How do we measure popularity? What are the various methods today? Are they reliable?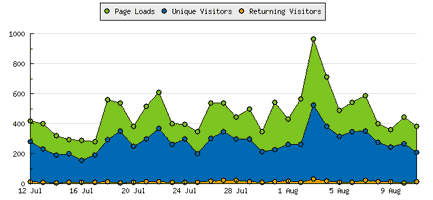 Technorati
Today, a lot of methods exist for measuring popularity. One, like Patrix pointed out is, to use Technorati's Ranking.

Technorati ranks blogs based on the number of incoming links. This rank is updated several times a day and only considers active links from the past six months. As of today, Technorati tracks around 50.9 million blogs!
A point to note is that the incoming links don't just belong to posts or blogrolls, but also from credit lines (e.g. like that of my Connections Reloaded Theme).
Alexa
Another method of gauging popularity is Alexa Traffic Rank.
Alexa's ranking system has been online from as far as i can remember! Alexa computes traffic rankings by analyzing the Web usage of millions of Alexa Toolbar users. They have a page detailing the process.
This is a stark difference from that of Technorati. Having a higher traffic rank is a more accurate sign of your sites popularity because it measures the number of users actually visiting your site.
However, Alexa ranks can be slightly inaccurate because it depends on users of their toolbar.
Topsites
Top Sites are often used to compare the popularity of blogs wrt one another. There are way too many top sites run by way too many people. A few well known ones are Blog Top Sites, Top100 Bloggers, RankingBlogs.com and Indian Bloggers.
While Top100 rates people on the number of votes they receive or the number of users visiting Top100 from the blog (which in my opinion is an highly inaccurate method of rating), the other three rate the blogs solely on the basis of unique visitors (i.e. traffic) which is how it should be!
Feed Subscriptions
A good way of ascertaining popularity is by looking at the number of feed subscriptions. e.g. Feedburner gives you buttons that let you display the number of subscribers to your feed.
This, however can't be a sure-shot method because you may have a lot of subscribers but no readers. Yet again, this doesn't track the actual traffic that the site receives.
Additionally, it only tracks those who have signed up for the service and put the code on their site.
No. of Comments
Visitor interactivity in terms of number of comments that the posts receive is another way to find out how popular a blog is. This can also be further used to determining visitor loyalty to understand how many repeat commenters are present.
And yet again, this isn't the best way, because you could have a lot of visitors who love reading your blog but would not want to comment on it.
To conclude there are several ways to determine blog popularity.
However, all of these methods may not give the same results. So which method should we actually adopt?
Give me your opinion.
Which method would you use from the above?
Do you have still another way of measuring blog popularity?
Or have do you believe that since your blog is personal, you don't really care about how popular it is?
Join the discussion below or blog about your opinion. And do remember to digg it.
And just a note to us Indian Bloggers. Let's quit the squabble about who is No. 1 in the Indian blogosphere and look beyond. There is a whole world of bloggers out there.
(Visited 591 times, 1 visits today)