Yahoo! may own Del.icio.us however, that hasn't stopped it from launching a fantastic update to Yahoo! Bookmarks.
If you compare that with the old version (which I didn't know existed), you will understand how major the upgrade actually is!
They also have a comprehensive Flash Tutorial that will teach you how to use the new bookmarks interface.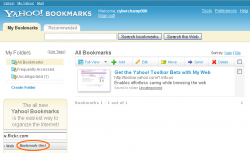 I would think that with the upgraded Bookmark service, Yahoo! would go all out to promote it, however C|Net reports that users of Yahoo! My Web will soon be directed to Del.icio.us
If you intend to use Yahoo! Bookmarks do get the updated version of Yahoo! Toolbar which has integrated support for the same.
As for me, I'm sticking to Del.icio.us 😉
The main reason being that I can easily integrate Del.icio.us bookmarks within my feed. So, if you have subscribed to my feed you can view some of the resources I've been finding online 🙂
Found via Techcrunch
(Visited 178 times, 1 visits today)