The following post is a paid review of Trendio and my second review from ReviewMe.
Are you the kind of person who regularly monitors search engines for the most popular words? Every year, several search engines publish the most popular search keywords for the year.
What if you could wager with these keywords? Maybe use your experience to make some money? What if I tell you that you can become a millionaire by trading in keywords, would you believe me?
Trendio tries you give you your shot at name, fame and fortune. Trendio is a stock market where the stocks are words from the news: politicians, celebrities, companies, sport events, etc… The price of a word is relative to its popularity in the media. As is in the real stock market, you compose your portfolio with words that you believe will rise, and you win if your predictions prove to be right.
Ok, if you go ahead, let me confess, you won't become a millionaire using Tredio, but you can definitely become a Trendillionaire.
Trendio sounded like fun and while I have zero experience in the stock market, I decided to give this a shot.
Signing Up
Signing up for Trendio was extremely simple. It requires you to select a username and password, enter your email, date of birth and few other details. A verification email is sent to your email address (which arrived immediately) and you can then follow the link and activate your account.
Once your account is activated you receive $10000 with which you can begin your trading. You can also earn more money by inviting your friends. Trendio can import contacts from your Hotmail, Yahoo or Gmail accounts, to whom you can send the invites.
This process threw up PHP errors for me and so I wasn't able to do this.
Starting Off
Like I said before, I have zero experience in the stock market and so went through Trendio's Presentation on getting me started.
Trendio offers several categories from News, Politics, Business, Entertainment, Sport and Technology and thus tries to offer everyone something.
You also have a live ticker at the bottom which presents you news from over 3000 news sources with keywords hightlighted, so you can use that too to influence your decision.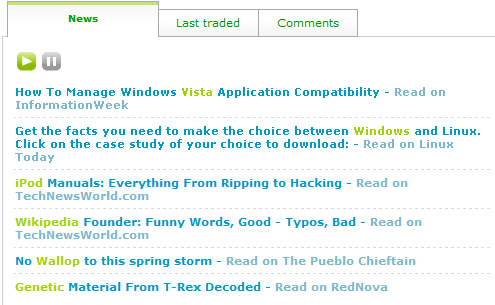 Being more familiar with technology I decided to buy 6 shares of the keyword "Windows" for 358.09 each and 7 shares of Google for 312.75 each.
The reason I chose Windows was because of the news results that I saw and the reason I chose Google was because of its recent acquisition of DoubleClick.
Apparently my choices weren't all that great, because both the keywords saw a fall.

So, I took the smart option and sold off both the keywords. Next time, I shall try some other choices…
Other Things
Besides just trading in words, Trendio also offers you several contests. I haven't given these contests a shot because they are over several day period and hence I won't be able to review them in this post. However, this is an option I shall be looking into.
Trendio also has a complete French version of the site to cater to that set of the population.
Overall my experience with Trendio has been good so far (though I did lose Trendillions 🙁 )
It is a good deal of fun in the spare time. If you have less time on your hands, then even 10 to 15 minutes a day are enough. If you really want to rise in the rankings out there, then you can always devote a lot more time to trading.