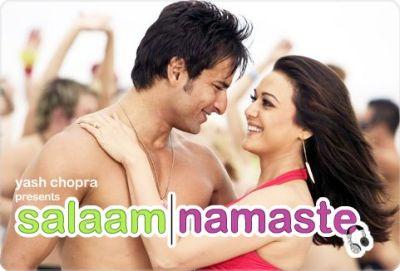 Salaam Namaste is the story of two Indians in Australia. Ambar played by Preity Zinta comes to Australia to learn medicine and works part time as a radio jockey for the radio station Salaam Namaste. Nick (Saif Ali Khan) is an architect by profession and a chef by choice living his life with no commitments and as he chooses too.

Nick, being Nick, fails to turn up for a scheduled interview with Salaam Namaste jockey Ambar simply because he oversleeps. She rewards him with a lesson in punctuality and discipline.

They eventually meet and as with most Bollywood movies the fighting couple falls in love. Nick asks Ambar to move in with him to check their compatibility and she agrees.
What follows is a rather enjoyable movie, predictable but fun. There are many funny, few sad, some heart wrenching and several romantic moments in the film.
Arsad Warsi as Saif