Few of us from the SCMHRD 2007-09 from Mumbai met up on Saturday.
After nearly a week of deliberating the place and time in the Orkut Community, the venue was fixed as Pizza Hut at InOrbit, Malad.
We expected eight persons to turn up but two couldnt make it.
The eggitarian, Maulin arrived first and was joined by the veggie Ankesh.
They were soon joined by Murtaza and the three managed to capture a table for six before I arrived.
We needed that table for atleast an hour and so to kill time ordered a pitcher of iced tea.
Pushkar soon joined us and Trupti arrived just in time to help us devour the pizzas.
Ordering pizzas was definitely very easy as except for Maulin and Ankesh, the rest of us are proper carnivores and unfortunately for us our time is running out, as food at SCMHRD is only-veg (though they do serve eggs!).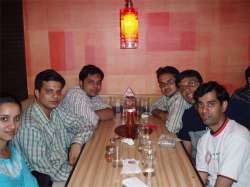 From left: Trupti, Murtaza, Maulin, Ankesh, Yours truly and Pushkar.
Topics ranged from brief introductions, laptops, jobs, prison, internet and starting a new forum for our notes and foundation course.
If any of you folks missed our meeting and would like it, do join the Orkut forum and this post. You can also comment below.
(Visited 201 times, 1 visits today)