I wrote about my trip to Edinburgh with Ashwina as well as the one day tour to the Scottish borders. Edinburgh is a beautiful city, but the beauty of the Isle of Skye blew our minds away!
We had booked the Timberbush 3 day tour to the Isle of Skye and the Highlands. Timberbush has an excellent rating on TripAdvisor, and we've even read some great reviews of our guide for the tour, Gail Williams.
We started off from Edinburgh on a Thursday morning in September what seemed to be a relatively clear day. However, this would soon change as we left Edinburgh.We first made our way to Glasgow to pick up the remaining members of our group.
We made a brief stop at Loch Lomond, which is the largest loch in Great Britain and then a bit later for lunch at Glencoe. It was raining by the time we reached Glencoe, but this made the place all the more beautiful! I did have to struggle to get some pictures.
Driving onwards we made a few brief stops including one close to Eilean Donan Castle. The plan was to visit the castle on our way back to Edinburgh on Day 3. This was the last stop on the mainland before we crossed over the new bridge into the Isle of Skye.
By this time, the skies had opened up and the rain lashed at full force. We took the narrow pathways to make our way towards Portree which is the biggest town in the Isle of Skye. Timberbush had arranged for accommodation for everyone. We had asked for a bed & breakfast and were put up at the Viewmount. This was our first B&B experience and were pleasantly surprised. We had a nice cozy room which was recently refurbished and we had a good breakfast both mornings of our stay.
We just had time for dinner on Thursday night and we made our way to the Portree centre which was a 10 minutes walk from where we were staying. We found ourselves in an Indian restaurant called Prince of India. The meal was decent and the dal was awesome. Who would have thought that we would have to travel to the Isle of Skye to get good dal!
After a good night's rest, we set off next morning to view the various attractions on the island. It had rained through the night and we woke up to a bright clear morning.
The first stop was the Talisker Distillery which makes some amazing scotch whiskey. We had a whiskey tour followed by some tasting. We picked up 2 miniature bottles to add to my collection of one Edinburgh Castle and two Famous Grouse.
Our next stop was to Dun Beag Broch, which is a little fort (or remains of this). Broches date back to over 2000 years and though there isn't much clarity on the history, it is believed that Dun Beag also dates back to this period.
Dun Beag Broch is on the main road that leads to Dunvegan Castle, home of the Chief of the Macleod clan. The castle is really beautiful with equally beautiful gardens. We didn't have much time to spend there, so we quickly had our lunch and ran through the castle and the gardens.
Having done with Castle Dunvegan, we moved on to other attractions of the island including Fairy Glen, Trotternish Peninsula, Colbost Croft Musuem (Black Houses), Ruins of Castle Uisdean, Creag an Fheilidh – The Kilt Rock and the Kilt Rock waterfall, which is one of the few waterfalls in the world that fall directly into the sea!
And, a really cute Highland cow that decided to come in front of our bus 🙂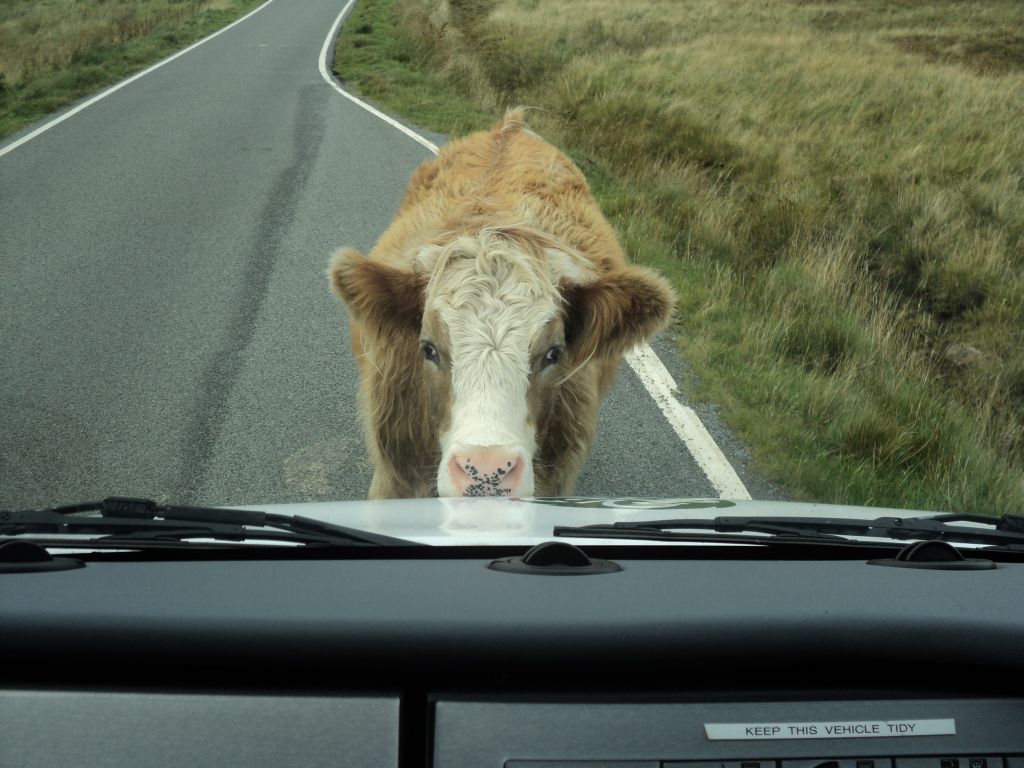 We finally made our way back to Portree and had dinner at the Granary before retiring for the night. We left the Isle of Skye the next morning and made our way to the mainlands.
We visited Eilean Donan Castle which had passed on our way to Skye which also has a beautiful view of the surrounding country side and also got some good pictures of the Five sisters of Kintail near Glen Shiel.
We continued on our journey back to Edinburgh stopping for lunch at Loch Ness and Fort Augustus.
We finally reached Edinburgh and checked in at Jury's Inn for the night before taking the train back to London on Sunday. Turned out to be a terrible journey which took 8 hours because of engineering works. Except for this, overall we had the most amazing vacation!
(Visited 1,459 times, 1 visits today)