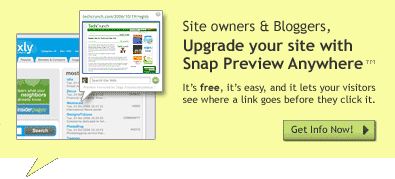 Snap released a new feature that lets you display thumbnail for links on your website.
It is called Snap Preview AnywhereTM.
I've released a plugin that makes it extremely easy for you to add the same code to your WordPress Blog.
Presenting Snap Preview AnywhereTM Plugin for WordPress!
As usual the plugin can be configured via WP-Admin. You can also let the plugin automatically add the code to the footer of your theme.
All you need to do is signup for SPA, get the Key and fill it in.
If you like the plugin please do consider a donation. It helps defray hosting costs.
(Visited 223 times, 1 visits today)