Having arrived in Goa safely, Crispin and I reached the house to find that there was no electricity. We played around for over an hour to get the electricity back, but it was more than we could handle. Was able to arrange for the electrician thanks to U. Diego's help who came in the afternoon and fixed it.
Our first job was to setup the house, i.e. bringing out the sofas, table, fridge etc.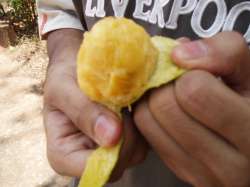 Was conned into eating a mango that fell of their tree… it wasn't all that sweet, but is this the beginning of eating a lot of unwashed fruits from trees?!
Crispin and I walked down to Cansa Board to pickup some drinks (no alcohol yet). Cansa Board is a good distance away from where we stayed and you got to get through a massive slope and so we picked up another 500ml to help us on our journey back. It was a blessing we picked it up!
Post lunch, we went back to Cansa Board, this time to pickup essential groceries. This time, I learnt of a more comfortable route than the earlier one. It has its slopes, but they are a lot less steeper.
Read More »Goa Travels: Day 1 – The Hitchhikers